Dental Team
Our team of Dental Nurses, Therapists, and Hygienists
Keeping patients smiling comes first at Sunnyside and that takes more than just one person. At one level we're entirely focussed on delivering a highly professional service from the moment you walk in the door to the moment your treatment is complete – and then until the moment you come back and see us again. We like to think of Sunnyside like one big family. If anybody likes to make dentistry fun then we do at Sunnyside!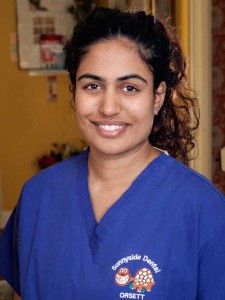 Meera Sud
Dental Therapist
Meera obtained her Diploma in Therapy and Diploma in Hygiene from Eastman Dental Institute (University of London) in 2009. She is a member of BADT and keeps up with courses to expand her knowledge and maintain her CPD.  She loves working with children (they adore her too) and specialises in looking after their fillings, extractions, and hygiene of Sunnyside's younger patients. A keen local sportswoman she plays hockey for Thurrock and has represented Essex and the East of England, is a regular at the gym and a keen swimmer and skier. To relax Meera likes nothing better than a good book.

Sheena McCartney
Dental Nurse
Sheena qualified as a DSA in 2005 and has been with us at Sunnyside for the last 6 years. A highly trained implant nurse she is currently undergoing further courses to extend her skills. Sheena really is a family person, herself from a big family, who fits in perfectly here. When she is not in Sunnyside uniform winter holiday are spent somewhere on a snowboard, whilst the rest of the year she divides her time between yoga, cooking, reading and 'just being social'.