Our team
Meet our team of highly trained professionals.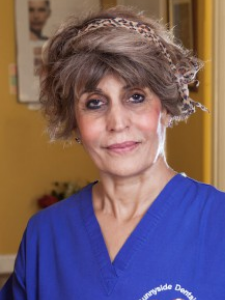 Dr. Usha Vohra
GDC registration number 49856
A Fellow of the Royal College of Surgeons with a Master's Degree in Medical Sciences, Usha is a serious student of dentistry and her credentials include specialist qualifications in Dental Implantology, Forensic Odontology, Oral Surgery, Paedodontics and intravenous sedation.Usha's career journey as a dentist has taken her from the Maxillo Facial department at Oldchurch Hospital in Romford, through Kings College Hospital Dental School and Guys Hospital and back to general practice. Apart from looking after her own list of patients she also specialises in caring for those referred to her for implants and oral surgery, often working with lasers – another of her specialisations. Overall though Usha's passion is in keeping people smiling and many patients at Sunnyside display the visible benefits of her skills with veneers, crowns, bridges implants and dentures following a 'smile makeover'. Most recently Usha has further expanded her 'smiley skills' to Botox Toxins and Filler that redress some of the problems caused by folds that occur due to ageing.
Dr. Kamal Sud
GDC registration number 49215
Having been educated at Taunton School Kamal graduated with his BDS degree from The London Hospital Dental School and an LDS, RCS from the Royal College of Surgeons.Shortly after, via a brief sojourn in South London arrived in Thurrock some 30 years ago.  He has been plying his trade in general practice here ever since and has become the local specialist of choice for prosthetic work, bridges, crowns, veneers and dentures that keep local folk happily smiling.
Dr. Karan Sud
GDC registration number 103012
Karan followed in his mother's footsteps and qualified from the University of Dundee in 2006. He stayed on after this for six further years as an associate dentist before returning home to his roots to help with the family business.
In his spare time he enjoys playing sports, has a keen interest in his garden and all things exotic in nature.
He is very confident and is currently learning the skills of implant dentistry.
Meera Sud
Dental Therapist
Meera obtained her Diploma in Therapy and Diploma in Hygiene from Eastman Dental Institute (University of London) in 2009. She is a member of BADT and keeps up with courses to expand her knowledge and maintain her CPD.  She loves working with children (they adore her too) and specialises in looking after their fillings, extractions, and hygiene of Sunnyside's younger patients. A keen local sportswoman she plays hockey for Thurrock and has represented Essex and the East of England, is a regular at the gym and a keen swimmer and skier. To relax Meera likes nothing better than a good book.